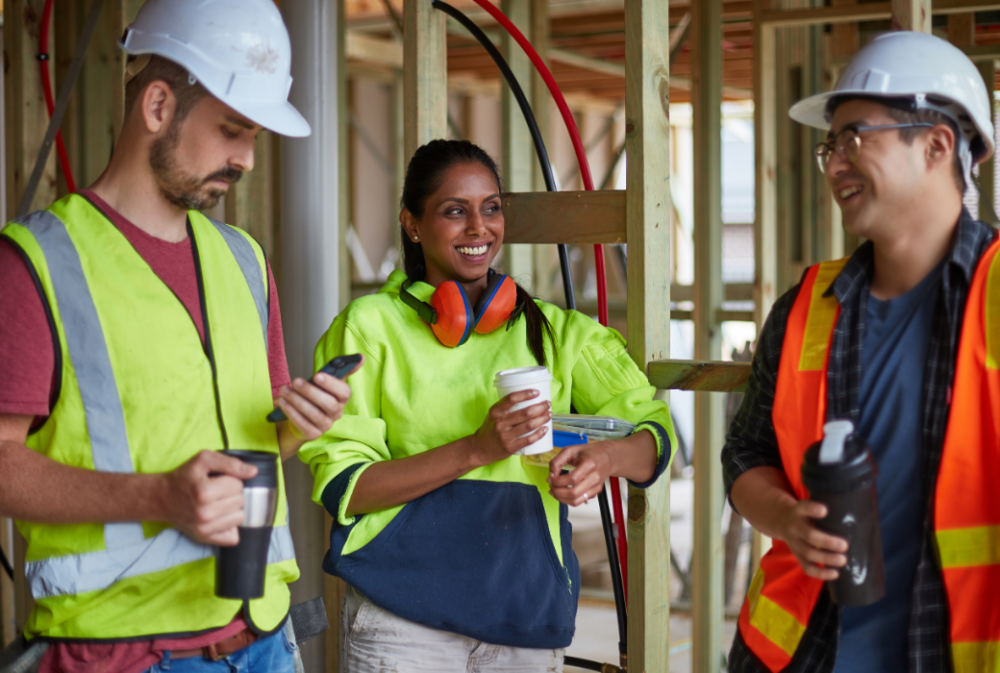 How a Community of Practice Uncovers Learnings for Clean Energy Job Training
Public Sector Solutions, Workforce & Economic Mobility, Results-Based Funding
Social Finance is partnering with the New York State Energy Research and Development Authority (NYSERDA) to pilot a new community of practice for several of the agency's workforce development grantees. Through this community of practice, several training providers, including Building Skills NY and The HOPE Program, meet on a quarterly basis to review their progress, share best practices, discuss challenges, and brainstorm solutions related to the Pay for Success Clean Energy Training project. This peer-to-peer community aims to:
Deepen relationships between grantees,
Accelerate learning across the field,
And increase the overall impact of each provider's training program.
Prior to each community of practice, training providers share updated data on their programs. Social Finance consolidates and analyzes this information through data dashboards to surface trends. Additional topics are sourced from training providers through surveys or one-on-one meetings, ensuring responsiveness to the needs of the community.
"We are grateful to our participating training providers for so candidly sharing insight into their challenges and opportunities through our first Community of Practice," said Adele Ferranti, Director for Workforce Development and Training at NYSERDA. "Our goal is to learn from their experiences so we can best support their work and create pathways to high-quality, family-sustaining clean energy jobs."
One benefit of this community of practice is that organizations learn from one another. Here, explore several of these learnings, as well as recommendations for how funders can best support their workforce development grantees.
1. Recruiting individuals for job training requires substantial effort and flexibility.
From October 2021 through June 2023, a quarter of prospective trainees left before completing one day of training, with many indicating interest only to pursue other opportunities instead.
To address this challenge, training providers experimented with different approaches to attracting and retaining individuals. Building Skills NY adjusted its screening process to assess whether individuals experienced barriers to engaging in training, such as housing instability, unreliable technology, or limited access to transportation. They also tested participants' commitment to training and industry suitability by conducting onsite, early-morning assessments that mimicked typical construction working conditions. The HOPE Program altered its messaging during recruitment to better describe the training so participants would fully understand the commitment required.
The impact of these adjustments can be seen in the data, as the program completion rate has improved across cohorts over time.
Click to explore program completion rate by cohort:
Program completion rate is out of the 174 individuals who started training. 231 individuals enrolled overall.
Recommendations for funders:
Adjust standard data reporting to separately collect the number of individuals who were referred, admitted, and started training to identify drop-off points in the recruitment process.
Offer training providers additional funding for the recruitment period to experiment with various screening approaches to identify potentially successful participants.
Collect information on program participants' reasons for dropping out of training and segment by referral source to identify trends.
Use your organization's marketing resources to publicize training providers' work.
2. Supporting the technological, educational, and income needs of program participants is key. 
The Pay for Success Clean Energy Training project enrolls people facing systemic barriers to education and employment. Out of those who provided demographic information,
More than 80% identify as Black or Hispanic,
More than 60% have a high school diploma or equivalent or less,
And more than 60% have a gross annual household income of $20,000 or less.
To help participants succeed, training providers offered supplementary resources. For example, for participants facing technological obstacles, Building Skills NY supplied loaner laptops, offered guidance on video conferencing platforms, and recommended nearby locations with free WiFi or methods to boost their own signals. They also provided tutoring for the mathematical portions of the curriculum (a practice they developed further in subsequent trainings). To address transportation challenges, the HOPE Program offered MetroCards to program participants.
Providers also found that stipends can positively impact participant engagement. The HOPE Program offered $125 per week for all program participants, and Building Skills NY provided stipends for its fourth cohort of program participants at $20 per hour of training attended. Overall, participants receiving supportive services had higher program completion rates than their peers.
Change the filter to explore program completion rate by whether a participant received a specific supportive service:
Program completion rate is out of the 174 individuals who started training. 231 individuals enrolled overall.
Recommendations for funders:
Fund financial literacy training, stipends, and transportation support, among other supportive services, to increase the likelihood that program participants complete training.
Survey program participants to identify their needs during the program and use this information to determine how to address these needs.
3. Segmenting project metrics by demographics can illuminate interim project trends.
So far in the project, the median wage for a first placement is $18 an hour and more than 50% of first placements are in full-time roles. Segmenting the data can add nuance to these findings. For example:
When segmented by education level, we see that participants with higher levels of formal education have higher program completion and placement rates than their peers.
When segmented by income, we see that participants with lower gross household incomes have higher program completion and placement rates.
While many entry-level jobs in the clean energy space have few educational or professional requirements that may allow individuals with lower incomes to access them, initial project data suggests that higher education levels are still valued by the market.
Change the filter to explore program completion and placement rates by education level and gross household income:
Program completion rate is out of 174 individuals who started training. Placement rate is out of 122 individuals who completed training. 231 individuals enrolled overall.
Recommendations for funders:
Assess whether training providers are serving priority populations, specifically communities of color, those with lower levels of formal education (e.g., high school diploma or equivalent or less), and those with low gross household incomes. Fund training providers with demonstrated focus on serving historically disadvantaged communities.
Segment metric results by priority demographics to understand differences in performance by subgroup.
Develop operational recommendations for providers on the types of support to offer to these subgroups.
Include various metrics in data collection about job placement, such as hourly wage, weeks until the job search starts, and weeks until placement, to understand the job search experience.
These are just a few of the learnings that these training providers unearthed. They have also explored changes like helping participants obtain driver's licenses, facilitating employer site visits, developing formal academic plans, and expanding access to additional industry credentials, such as:
Environmental Protection Agency Section 608 (EPA Section 608)
Green Professional Training Mechanical (GPRO Mechanical)
National Center for Construction Education and Research curriculum completion (Core curriculum; heating, ventilation, and air conditioning (HVAC) curriculum)
Fire Guard for Torch Operations (F-60)
Torch Use of Flammable Gases (G-60)
Building Skills NY also seeks to enforce a salary minimum for any individuals that it places into jobs, facilitating access to higher-paying jobs and setting the stage for long-term advancement. Collectively, these changes have driven improvements in the project's performance metrics, such as program completion rates.
As another innovative approach to facilitating career growth, although not a program that participants in the Pay for Success Clean Energy Training project are accessing, the HOPE Program also offers transitional employment through its Intervine program. The Intervine social enterprise employs individuals in a transitional employment program in which individuals receive $15 per hour to perform green infrastructure projects through subcontracts with for-profit businesses. The program facilitates employer connections while also offering training and education to individuals.
We are excited to learn more about other models that training providers are using to achieve broader workforce development and clean energy goals.
If interested in learning more, please reach out to Matt Latimer.
Our team was thrilled to take part in this community of practice as part of our ongoing commitment to connect unemployed and underemployed New Yorkers with high-quality jobs. As we work to equip the next generation of construction talent with the knowledge and resources they need, we're grateful to have NYSERDA's support.

Building Skills NY
By connecting jobseekers to these career fields, HOPE is bridging the gap between unemployment in historically low-income, environmentally neglected communities and career opportunities in the burgeoning green sector.

The HOPE Program
NYSERDA is pleased to partner with Social Finance to launch its first Community of Practice as part of our Pay for Success Clean Energy Training Project. We are grateful to our participating training providers for so candidly sharing insight into their challenges and opportunities. Our goal is to learn from their experiences so we can best support their training initiatives and create pathways to high-quality, family-sustaining clean energy jobs.

Adele Ferranti, Director for Workforce Development and Training at NYSERDA
Related Insight
Job Training in New York to Address the Climate Crisis
Job Training in New York to Address the Climate Crisis
The Pay for Success Clean Energy Training project, which is supported by an $8.2 million grant from the U.S. Department of Labor and the U.S. Department of the Treasury, will train more than 660 New…